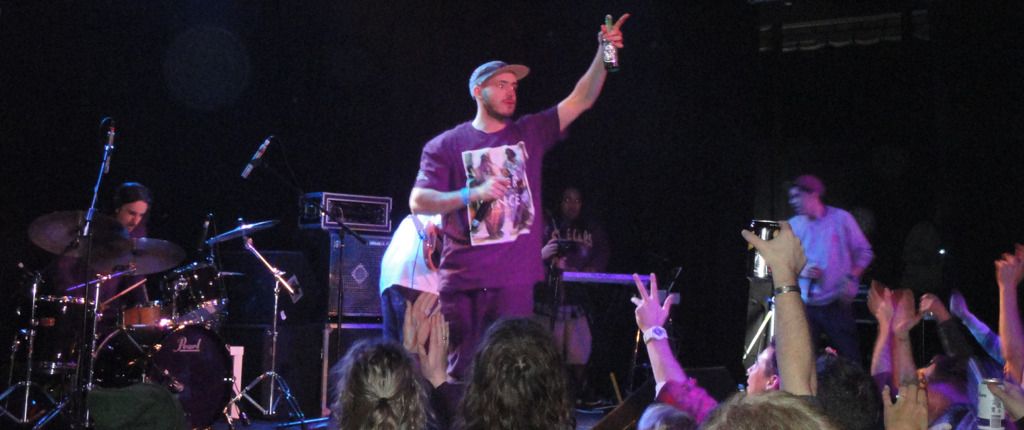 Usually when you go to shows, part of the reason you go is to see the usual suspects. On this rain lashed, bitterly cold night, the crowd was entirely new to me. Sparse while the drugged early-Wu/blurry Westcoast inspired sounds of
Soul Benefits
unfolded, the crowd swelled for local girl
Sky'High
and then exploded for New Zealand's
Home Brew
. Naturally, when you're faced with something new and different after years of the same faces, and you want to share the shiny exciting new with everyone, the camera decided to pack it in and only a few images survived.
It's a shame there are no pics of
Soul Benefits
. I haven't seen an afro and sunnies combo rocked that well for a long time. Their stumbling, backpack wearing attitude and lashings of Bone Thugs, ATCQ and Cypress influences made their show feel like the raw, drawled shows of old. For three kids from Rooty Hill who I'd never heard of, they seemed remarkably at home on stage, and despite the lack of a crowd, they put on a solid headnodder of a show. Well worth a look if they play near you soon.
Sky'High
took to the stage ably assisted by
DJ Ology
, who held the show together when it had its occasional wobbles. A veteran of the Sydney scene, and someone who I've always enjoyed seeing live for her fire, passion and glimpses of vulnerability and doubt, tonight Sky didn't reach for the same heights she's demonstrably capable of soaring to.
It's always a little uncomfortable when you're at one of those shows where the performer is clearly unhappy with the crowd support and the atmosphere of the night. At one point stating that she might as well be at rehearsal for all the love shown by the crowd, tonight's version of this talented and tight performer sadly verged on the obnoxious.
Getting it together towards the end of her set, Sky managed to scrape by with a pass mark, but not the flying colours she's been known to display on stage. At times, watching her and hype-girl
Emily Blake
did
feel like a rehearsal, and a scattered, disorganised one at that. I'm hoping next time will be better, and this was just an off night.
New Zealand's
Home Brew
opened their show with a DJ Premier shout out, cementing their boom bap seal of approval and getting the mood to lift and swell after the wincing discomfort of Sky'High. With a hugely enthusiastic crowd, and a cheerful atmosphere, Home Brew soon took us on a journey of their new self titled album, which was so highly praised by one of OHH's own reviewers recently.
'Dedicated To' set the tone for the night with its understated charm and rose-tinted mood. The live bass, drums, keys, horns and Dj on stage gave the NZ crew a plump, juicy sound that expanded like a bubble to envelop the crowd.
Bringing a slightly harder edge to their live show compared to the album, Home Brew spun from the introspective, to the weededed, to the cheeky and ignant effortlessly. 'Benefit' set off a grinning mosh at front of stage, and the full band lent an energy to the show that you just don't get with three MCs and one DJ, no matter how polished their sound.
It's impossible not to be swept up by the vibrant, jazz infused, stoner blunted styles and soaring poetic vibe of Home Brew. Carried through the night by a crowd who spilt offerings of love and passed joints through the crowd, they could never have failed. However. For a group that is known for its honest, phony-free lyrics and ability to create raw, truthful tracks, it's sad hearing an American accent come out of the mouths of Kiwis.
I want to love this band, fiercely, and with wild abandon, but that accent made it difficult to suspend my disbelief at times. When music is this personal and genuine, it's hard to know you're being romanced by someone who is being a little less than authentic. A soft hearted sucker like me will always forgive them, but always be careful to make disclaimers like the one you're reading before launching into enthusiastic praise. It's a shame that it's necessary, but don't let it hold you back from checking out a top notch, hugely entertaining group with armloads of talent. Their sound and energy gives some of the better known AUS groups a solid run for their money.
Cop the album, roll a blunt if that's your thing, and kick back and let their sound drag you away from the mundane. Try and ignore the dissonance of the accent - and if you can't, drink beer. This strategy saw me in good stead for this show, and I was left with nothing by smiles and that happy huggy feeling as I skittered out into the slick, rainwet streets.
© 2012 OzHipHop.Com - No part of this article can be used without permission from the Webmaster.