Words by xtothap1
"
If the City had a voice it would not be mine, it might be Purpose's though
,"
booms Prime's voice through the speaker on one of their collaborative bangers, whilst it may be seen by many as a throwaway line on an introduction to a track, he has a valid point.

The name Purpose has been around the hip hop scene in Australia for some time now, taking battles, ripping beats and of late making banger after banger, he is exactly the sort of artist who could break through taking this music shit to the next level and whilst doing so become the next major voice for the Australian hip hop scene.
Ozhiphop.com
tied up far too much of the man's time so we could bring you an insight into an artist who as well as being a personal favourite of ours is on the verge of doing some very big things.
So you've been around for a minute now, I remember a very young Purpose on the battle circuit circa 05 or 06 with the DoN battles etc, for those that don't know break down how you got into hip hop/rapping?
I pretty much just got into rapping/freestyling/writing my own songs as a kid around 12. From then I found out my cousin (
Motive
) was writing rhymes too, he introduced me to
Pohetikut
(Pagen Elypsis) one night. From then on we all just ciphered a lot and that very quickly led to battling anyone, anywhere. I was 16 the first time I recorded a song. From then on I just never really took my foot off the accelerator.
Back in those days making a name in battles really was seen as the way to make your name in the Australian scene, was that a conscious decision that drove you to battling or was it just something that you loved rhyming off the top and being the better emcee?
It was a natural thing at the time, I wanted to earn my stripes. I wanted to make my presence felt and have an identity in my city as someone who was respected. In the underground some MC's tend to take any opportunity they can to discredit other rappers they see as a threat to make themselves look better (crabs in a bucket mentality). But when you show and prove time and time again they have to respect you. You can't say "I'm better than Purpose he sucks ra-ra' if the person you're telling has seen me make a fool out of you and prove the direct opposite. It doesn't fly. I was always a little scrawny dude as well so it was funny when some hard head would try to push me around and then my turn comes along and I made his friends laugh at him. I used to love that shit haha.
You had a fair bit of success in the battle scene in Australia too, some, myself included would say you have arguably the country's best battle resume. What were some of your biggest successes and disappointments along the way?
Thank you. The first
Double Or Nothing
battle, the
Revolver
2011 battle and of course the national
Scribble Jam
titles in Sydney were my biggest successes to me. No disappointments really, when I was 15 I lost for the first time but it forced me to up my game so it wasn't a bad thing. It's important to lose early on, you learn a lot.
A lot of people forget you went to the US for Scribble Jam too, how was that whole experience? Were you still seen as a novelty being from Australia? Or had Justice paved the way for Australian artists over there? What was the highlight of that whole trip?
It was amazing to be rewarded and recognized as an MC in such a huge way so early on. Being invited to compete in what was known as the worldwide stage at that time for battling meant that my skills were validated on a worldwide platform. A big part of the reason I got heavy into battling was because I watched the Scribble Jam DVD's,
Battle for Supremacy
as well, so having that come full circle was cool. I don't think we were seen as a novelty but I really wasn't paying too much attention, I was more focused on performing well for my city/country. I think Justice's performance the year before meant that any doubts people may have had were irrelevant. Hip-Hop's a worldwide language. The highlight of the trip for me was watching
Big Daddy Kane
perform, it was the same night of the MC battle. He turned it out, played/covered a lot of classics.
Brother Ali
was in the crowd next to me with his wife dancing away, was a cool moment.
You have stepped back from battling to focus on music in recent times, something I highly endorse, but you did return to destroy The Saurus earlier this year, what is your take on the acapella format vs, the freestyle battles – tired argument I know but it interests me – what saw you come out of retirement was it a case of wanting to prove you still had it? Is it something you think you will continue to make guest appearances in?
It undoubtedly took more skill to survive let alone drive in the freestyle era, for sure, but I am a fan of the new format. People forget how terrible some freestyle battles were becoming when they fizzled out. People forget that around the time these new leagues emerged, no-one was going to freestyle battles anymore because it got tired. The only downside to this new format is it is a lot easier for a terrible rapper to get by because he doesn't need to have any natural ability. He has the luxury to prepare for months. It's an entirely different game these days. As for why I came back, because of my resume I tend to get thrown good opportunities like
The Saurus
battle and it becomes more about testing your skills in hip hop. That's what makes it appealing to me again. For a while there it was like if I went in a local battle people started looking at me like a bully because they knew what I was capable of. Going against dudes like The Saurus gives me the opportunity to be the underdog again which is what I thrive off because it feels like when I started. People start to expect you to lose, I love that. I said it was my last but there are probably one or two names that interest me that would make a good battle, regardless I'm not looking at that any time soon. I have a lot of touring ahead so I'm focusing on that and delivering this album as best I can.
On to the music, let's talk PE first, what's going on with the crew? How was the album release received? Are you guys still making music as a full crew?
The album was a gruelling process and we were hugely proud of both the music and how it was received. As an independent release - detached from even a distribution deal, we still managed to make an album of a high standard that became important to hip hop which is no easy feat. The crew is keeping busy, I'm releasing my album,
Prime's
doing an album, Motive's releasing a mixtape,
DJ Hacksaw
is of course staying busy with
Full Tote Odds
and
Kadowg
& Pohetikut are always writing new material. We still make music as a crew. The whole group features on a song on my album
Where It Starts
and we have songs on each other's upcoming releases. We'd love to do another album down the track but at this stage it is just songs here and there for each other's projects until we free some time up.
Actually speaking on old crews, Afore Mentioned was the first CD of yours I thrashed, back to back for days when it dropped, I know you and Motive still tour together etc, is there another release in the works from you guys?
I think of that release with real fond memories. Absolutely, we work together and tour a lot etc but we will be doing an official album together down the line and it will be something special.
Cam Bluff
of
Vegas Aces
and I handle the production almost exclusively on it and it is a far more evolved product from
Red October
.
On the solo tip you have released some phenomenally good music for free, what has been the thought process behind dropping the mixtapes? Is it a case of honing your sound to its absolute tightest point before releasing the long awaited LP?
Thank you, I appreciate that. I registered
Double Or Nothing
officially as a company with some friends of mine in 2010 so I had been really deep in the other side of the industry to try and get the
One Way Ticket
album out properly. As a result, I felt like I was getting a bit sloppy with my craft. Too laid back. The mixtapes were a way to really sharpen up before I put out my album, but because I'm a perfectionist I ended up treating them all like albums to make sure they came out the way I wanted. I wanted to offer people a representation of my actual sound and to show them the range of music I am capable of. At the time, mixtapes were largely just bar-fests to show off your writing and brag away, but for me there was no point in doing that because people know I can rap. They always have. People needed to see more from me and I became aware of that as I grew up. I figured, as a rapper with no official solo releases out or resources I should really master my lane. My lane at the time was this, so I took everything I have learnt over the last 7 years or so and delivered the best projects I could.
Have you ever looked at what others are releasing as albums and thought fuck my shit crushes this why don't I drop something and make some cash?
Haha, to be honest I don't really think of my peers or my craft like that. Money was never the goal and shitting on everyone was kind of my pre-2010 mentality haha. I just focus on doing my thing and working with like-minded dudes who I respect both in and outside of music.
Is the album an extension of what we have heard from you on each release so far? Or can we expect something on a completely different sound tip?
It is very much an extension of what you have heard from me in the past. It is the best execution of all the components you saw on the mixtapes, definitely my most memorable and up close material to date. I touch on a lot of things I haven't in the past so it is a little more personal in that regard.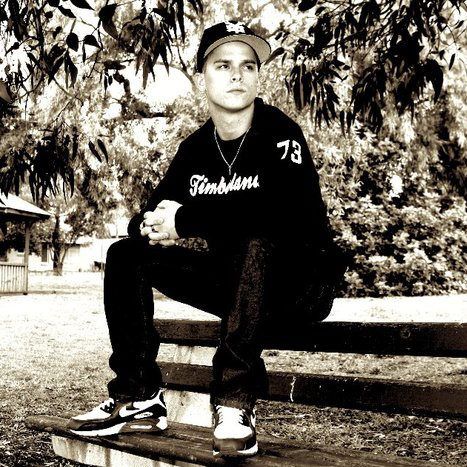 One place where people don't give you enough credit I feel is on your production, every time I hear a purpose beat in recent memory I'm impressed, when did you get into production? Is it something that will feature heavily on your album and longer term are you looking to produce for others?
Thank you, they don't need to just yet, it's cool haha. I got into production when I was 15 just because I wanted beats to write too. I used some prize money from battles to buy a computer when I was 16 and started to take it more seriously. Having sat in studio's with Trials a lot over the years I was fortunate enough to pick up a lot from him and eventually disappear off the grid to find my own sound. It definitely is prominent on the album, I produced 16 out of the 18 tracks on it. I've produced a few beats here and there that I have tucked aside for people but it's more a case of me wanting to work with the artist in question and build a piece of music with them that we are both proud of. Production isn't an assembly line thing for me at this point where I send out catalogues or anything, it's more like producing for friends of mine in the genre.
Your name carries significant weight, you have repeatedly been endorsed by and worked with the likes of Trials and The hoods, taken on tour by some acts having huge success, is the respect of these artists important to you? Is it something that enables you to learn and improve constantly as you are surrounded by scene heavyweights?
Very. These are people who I consider the best in the craft and prominent figures/pioneers in the culture that my life revolves around, so to know that they recognize value in what I do is cool. It kind of blows my mind that these dudes are my friends but when we kick it it's always normal. At the end of the day we're all just guys from Adelaide who love hip hop. I think part of the reason that these relationships grew is because a lot of times we (myself included) aren't sure what a new MC's intentions are. There's a stigma when someone's new that they may be just another overnighter here for the wrong reasons who won't last a summer or two, sometimes rightfully so. Once you take the time to show people what you are doing is genuine it becomes apparent you have a similar drive and that brings artists together. It definitely always makes me up my game when I'm around people who have achieved a lot of the things I set out to do in the next 10 years because I can see what the next level looks like and what the next move is.
You've also done a bunch of touring alongside acts this year, how do these opportunities arise and how does the liver and day job make out?
They come about a lot of different ways, when you are constantly active and releasing material you become the go-to-guy for a support slot because you start to build a buzz. I was recently taken on by Premier Booking Agency which is exciting so that will open some doors too. My job is pretty good with giving me a Monday or a Friday off here and there and the liver doesn't really get a say haha.
Here is the soon to be world famous Ozhiphop.com talk my album up question, spruik that joint to me…
Basically the best way to describe it is that if you had the chance to speak to a 23 year old kid from Adelaide and have them be completely honest with you, this is what it would sound like. There are parts of it that are positive, there are parts of it that aren't. There are parts of it that are my funny/stupid side, there are parts of it that make me look like a bit of a lunatic. There are parts of it that cut a little close to home but these are all human traits. Some of them we are proud of, others we're not, but it's important to have the full picture regardless. It is kinda just a picture of my brain. I'm excited for people to hear it.
What makes this album a success to you once it's done and out? What is the long term plan for yourself musically?
Just that. It being in the universe. I have goals that I want it to reach definitely, but for me personally all it needs to do is be out there for me to be proud of it. I said on Many Faces that being middle class means we are literally supposed to just work and die. Keep the economy moving, stand up straight, live a Groundhog Day life. The album represents me saying fuck all of that shit. To me it is a statement to say I am choosing to want more because we should all get a fair shot at doing something that makes us happy. I am proud of that. That's why in a lot of ways, this is bigger than music. My long term plan is to be able to make music my job and tour the world. I love travelling and taking my music to people live in the flesh, it's a completely different experience.
Lastly can we please get a Prime and Purpose release, 12", EP, fucking something, shit I'll even embezzle work funds myself to pay for pressing if required
Haha, you will surely get something from us in the long term. At the moment it's not a priority. Myself and Prime have quite a lot in the works for the next few years but it will only make it more powerful when the time comes. In the meantime we will still do music for you guys and smash radio from time to time to keep the peace, haha.
Twitter:
https://twitter.com/purposepe
Facebook:
https://www.facebook.com/purposepe
YouTube:
http://youtube.com/purposeadl
'Where It Starts' will be available soon, through MGM in all record stalls big and small - or for those on the digital tip streaming on iTunes.
© 2012 OzHipHop.Com - No part of this article can be used without permission from the Webmaster.